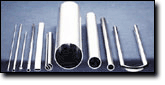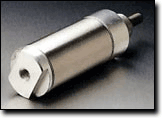 Available Sizes:
O.D. - 3/16" (4.76mm) to 6.625" (168.3mm), wall - .016" (.41mm) to .280" (7.11mm), lengths to suit your requirements.
Available Conditions:
As Welded, Welded and Drawn, Bead Hammered, Roll Forged, Annealed, Unannealed, O.D. Conditioned, Long Length Coils, Straight Lengths, Custom Shapes.
Testing:
Non-Destructive - Eddy Current, Hydrostatic, X-Ray, Pneumatic, Dye Penetration / Destructive - Hardness, Tensile, Corrosion, Flare, Flange, Reverse Bend.
Quality Assurance:
A.T.I. maintains a start-to-finish Quality Assurance Program that is Certified to ISO/TS 16949:2002, DIN EN ISO 9002, and C-TPAT. The program has been audited and accepted by many companies located throughout the world.
A.T.I. General Application Tubing is used in a very diverse range of applications including marine, aerospace, automotive, metals distribution, transportation, appliance and many other industries worldwide.
A.T.I. pneumatic cylinder tubing is used extensively in the fluid power industry (bottom photo) where critical OD and ID surface finishes and tight dimensional tolerances are required.